happy tuesday!
i was hoping i would wake up &
it would be the weekend. haha.
then again i don't wanna wish my life away.
first i wanna share with you my monday nite adventure,
fourwheeler riding fun in the country :)
peaceful river.
some blurry wild flowers that were oh so pretty.

a nice look out.
& finally my cousin's horse and baby colt.
now, onto some fun bloghops.
first it's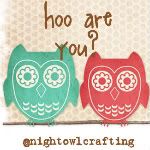 today's woo are you questions,
hosted by night owl crafting are:
1. What is your natural hair color?
it's blonde, just not as blonde as it is now :)
2. Which do you prefer, sunrises or sunsets?
i actually love them both. i get to see more sunsets, so i guess sunsets, but when i do rise early, i love to see the sun coming up.
3. What is the first thing you notice about people?
hmm i don't know really. probably attitude. i know that's probably not what this is asking, but that is usually what i notice, if someone has a kind attitude, then i usually get along with them instantly, while with others it takes a while.
4. Do you prefer talking or texting on your cell phone?
it depends. if its a short question, then just text, but if its a conversation then i like to talk.