actually, it was a blast, which I knew it would be.
i haven't uploaded my pictures yet
but i do have one taken from the phone
of michael and his bass he caught.
it cracks me up because of the huge smile on his face!
i was thinking of doing a different kinda post today that
i read about today, but im gonna save it for thursday i think,
so stay-tuned, it's pretty great.
i woke up this morning not feeling great...
i don't know why, just draggy and sore.
maybe camping is just settling in haha.
but this is my last week off!
that's right i have to go back to school monday.
(insert a big scream in here)
how did summer go by so fast?!
nursing school is super hard and although i can't wait to be
a nurse, nursing school leaves me with a 24hr migraine!
so this week, i'm gonna try and get stuff done.
and study and try to be prepared for monday :(
but no worries i still plan to try and blog!
as it happens to be my favorite...
that and spending about an hour with google reader every morning.
so, today im going to try and sew some
along with laundry and other things.
but here is today's blog hop.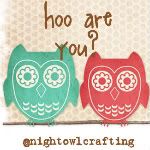 i love doing hooo are you tuesdays!
& here are this week's q's!
1. Do you prefer to write in cursive or print?
my cursive would scare you...seriously!
2. Do you prefer to shop online or go out and actually
go to the stores?
to me...shopping online is convient and who doesn't
love packages in the mail?
but i love spending the day shopping at the store too.
and usually cheaper in my case.
3. Would you prefer to go camping or stay in a motel?
well, i love me some camping as ya'll know.
but motels are easy peasy which leaves more time for fun.
4. Do your prefer going to the movies or staying
home to watch one?
because no matter what if i go to the movies
i usually feel like i got robbed.
it's so expensive!
5. Do you prefer a shower or a bath?
there is nothing like a good, hot shower.
baths usually make me sleepy,
but i love them on occasion.
gotta go make the most of the
4 days left of summer vacation!