it feels so good to be at home today and not at school.
too bad i have 1 million things to catch up on.
my to-do list for today is a mile long.
but all i want to do is sit and relax.
since it is friday after all i'm gonna be doing
my usual friday bloggy things :)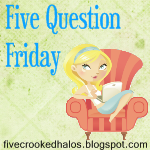 1. Do you feel guilty spending money on yourself?
haha, my husband does a good enough job at that.
yeah i do feel guilty and i hardly ever buy things for myself
unless it's a really good deal or at a yard sale.
but expensive things? that rarely ever happens.
2. How well do you know your neighbors?
eh-not too good i suppose.
the one's on the right are pretty shady.
across the road, we know them fairly well. they're real nice.
and on the other side is a mechanic shop where we know the guys who own it.
when my husband is MIA, that's where i find him.
3. What age are you looking forward to being?
whatever age when i graduate. haha.
but i like being 22--23 next month.
it's a good age.
4. Do you get excited when the mail comes? Why?
oh yeah. realllly excited.
usually because i sign up for freebies and free samples.
i love when they come in.
but when i run out there and just
find junk mail and bills--i'm sad.
5. What is your earliest childhood memory?
i broke my arm when i was 3 and i vaguely remember that.
you've seen the picture so i wont post it again! haha.
friday favorites!
here i just post some of my favorite things for the week :)
& this week a few things i'm loving are:
i can't wait for days like this!
monday is my bestie's bday.
i'm gonna make her a card and some cupcakes!
she lives with my mom bc she stayed when i got married.
but we kept her last weekend and i love her soo.
have a wonderful weekend.